May 24, 2018, 1:13 PM ET
'A bit of a setback' one congressman says of canceling North Korea summit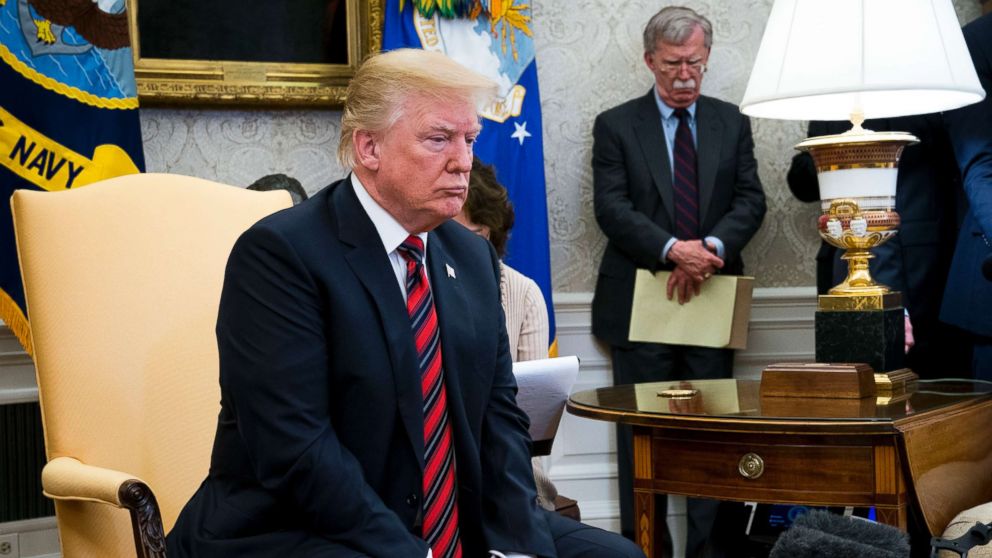 In the wake of President Donald Trump's cancelation of a planned nuclear summit with North Korean leader Kim Jong Un, members of Congress were quick to play the blame game.
Interested in
North Korea?
Add North Korea as an interest to stay up to date on the latest North Korea news, video, and analysis from ABC News.
Some members of Congress lauded Trump, saying he made the right decision to call off the summit if North Korea did not intend on getting rid of its nuclear weapons, while others are blaming Trump for his "amateur" antics and lack of preparation.
"My understanding is it's been difficult to communicate with them over the last short period of time, maybe Kim Jong Un is having some second thoughts," said Sen. Bob Corker, chairman of the powerful Senate Foreign Relations Committee, on Thursday morning. "There's been some feelings recently that maybe they were not sure, maybe not quite ready if you will on the North Korean side to have this kind of meeting. We need to make sure if we're going to have this meeting, it's going to be productive."
The House Foreign Affairs Committee chairman, Rep. Ed Royce, R-Calif, said in a statement that the administration should continue to apply diplomatic pressure to North Korea.
"Our goal is to peacefully end North Korea's nuclear threats. The administration should continue to look for opportunities while applying maximum diplomatic and financial pressure against Kim Jong Un. Our allies – including South Korea and Japan – need to stand with the United States. There can be no daylight between us," Royce said in a statement.
Many of us feared that the summit between @POTUS & Kim Jong-Un would be a great show that produced nothing enduring. If a summit is to be reconstituted, the US must show strength & achieve a concrete, verifiable, enduring elimination of Kim Jong-Un's nuclear capabilities.

— Chuck Schumer (@SenSchumer) May 24, 2018
Some Democrats criticized the president, saying that the decision showed that he was not prepared to deal with the tactics of Kim Jong Un.
Sen. Bob Menendez, ranking member of the Foreign Relations Committee, told reporters that Trump had failed at the art of diplomacy.
"The art of diplomacy is a lot harder than the art of the deal," Menendez said.
"Look, I have said all along that it is a lack of a strategy, and deep preparation that is needed before you agree to entering such a high profile summit. So Kim Jong Un already received some of what he wanted in recognition that he could be seen as reasonable. And it's amazing to me that this administration is somehow shocked that the North Koreans are acting as North Korea acts," he said.
Sen. Rand Paul blamed the canceled summit on the "bombastic rhetoric" coming from both Trump and Kim Jong Un.
"There's a problem, sort of sometimes, with bombastic rhetoric on both sides, that if [we] dialed the rhetoric down and try to have normal diplomatic language between the countries, we might have a better chance of having a summit," the Kentucky Republican said.
This is a setback. This is an error. This is what happens when amateurs are combined with warmongers. This is NOT secretly smart and clever, and any pundit or politician who even flirts with that idea is deeply, deeply unserious.

— Brian Schatz (@brianschatz) May 24, 2018
The cancellation of this summit reveals the lack of preparation on the part of President Trump in dealing with a totalitarian dictator like Kim Jong Un. We've seen similar lack of preparation by the president in dealing with the leaders of China and Russia.

— Senator Bill Nelson (@SenBillNelson) May 24, 2018
This is a developing story. Please refresh for details.
News - 'A bit of a setback' one congressman says of canceling North Korea summit